Address: 5623 York Blvd, Los Angeles, CA 90042, United States
Celebrating the last of the 3 day Hoorah, we've decided to go to one of our favorite places in Highland Park. Nothing fancy, nothing stressful, and definitely nothing that will break your wallet. But, it's definitely something that is delicious.
Antojitos Guerrero is a small hole in the wall that you will probably miss driving down York blvd. My heart is set on a few of their dishes, but their tostadas is definitely on top of my list.
It was hot in Los Angeles today. Really hot. So sitting outdoors, closing my eyes pretending like I'm in Mexico wasn't so luxurious anymore after over 30 minutes of waiting for our food. There was a huge part of me that said I would never come back, NEVER! Especially because the table behind us got their food first even though we ordered before they even got there (don't you HATE that?). I didn't feel hungry, but my temper sure made me feel like I was. I was giving them the benefit of the doubt, that maybe they have to marinade the seafood. Over 30 minutes later, with sweat dripping down my back, shoving chips and spicy salsa down my throat, this baby and the others started flying out.
This is their tostada mixta. Their fish ceviche is one of my favorites and it's definitely something we order every time with extra avocados. But today, I wanted something with shrimp. Noticing their Mixta consisted of Shrimp, octopus and imitation crab meat, we've decided to go for it with their success of making a legit fish ceviche. What a treat this was to see fish mixed in. I am assuming they didn't have any imitation crab meat today. EVERY SINGLE seafood you see here, is executed to perfection. The octopus was tender, the shrimp had a snap, and the fish was plump and slightly tart from the lime. The cucumber and the avocado helps balance the citrus. From this day forward, I will always order this. And, this saved them because now I must return in the near future to devour. By the way, the best part of this tostada is how every ingredient is kept to it's integrity. A lot of tostadas I've had, is extremely finely minced where you can't appreciate texture and the full flavors of the seafood. You definitely know what's in your mouth with Antojitos tostadas.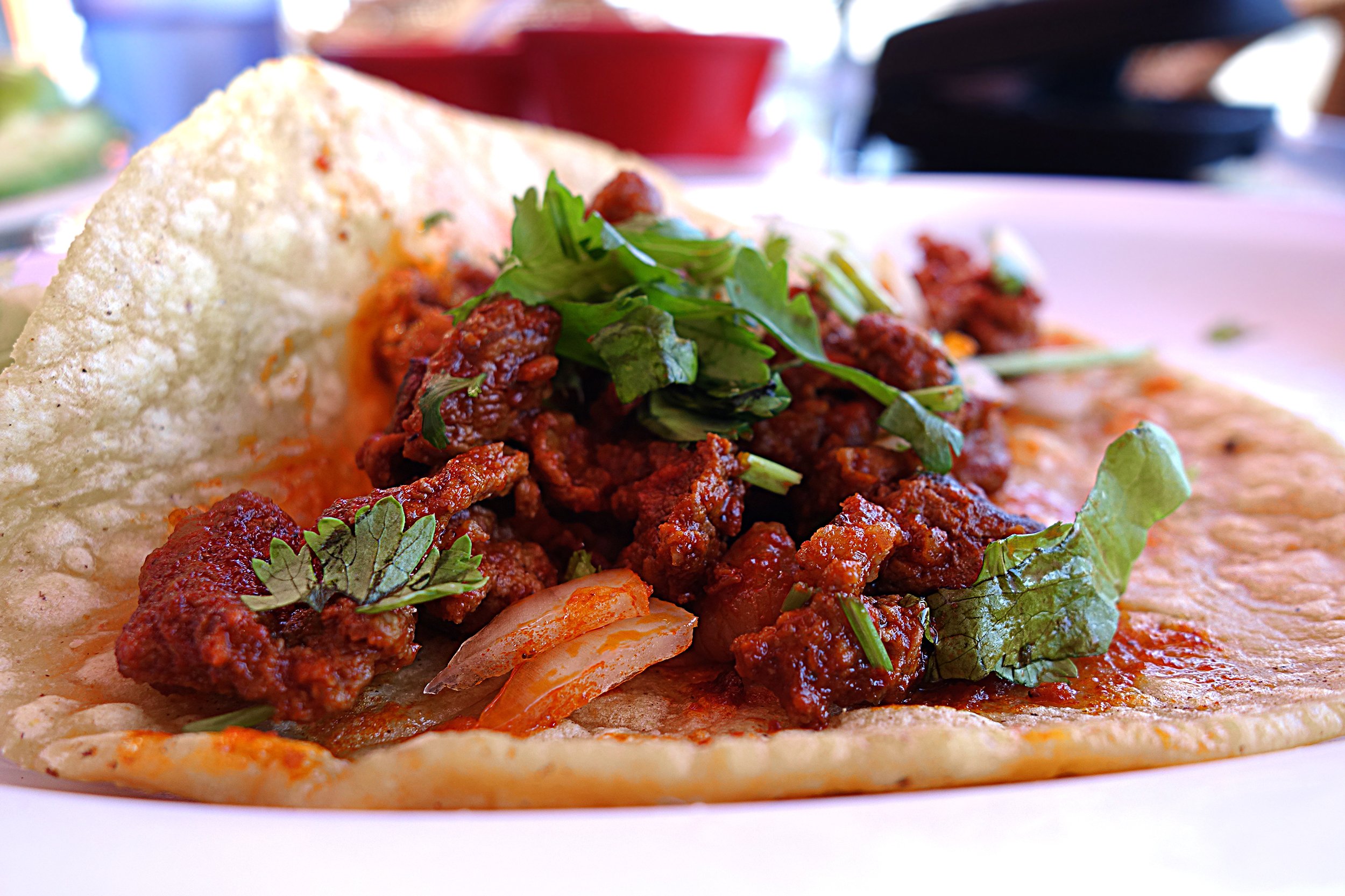 Their handmade tortillas are to die for. Go ahead and get ready to die. I love the thickness, the chewiness, and how it soaks up all the juices and salsa that you load in. (If you want to find a similar tortilla, go to Trader Joes. They have a corn tortilla that is similar to this). My favorites from this place is their lengua and their adobada. The first time I had adobada was from Antojitos. Not knowing what it was of course. Adobada, here, is pork marinaded and cooked in a red chile (not spicy). The other you see is lengua (Beef tongue) which is also one of my favorite cuts stewed to perfection. Their handmade tortillas run for $1.99 each, and they are worth it. Like why wouldn't you go for handmade tortillas?
If you decide to come, be ready to wait for your food and don't blame me for it either. Not sure what magic happens in the kitchen, but I highly recommend their ceviche/tostadas which seems to be made to order. They have other items, but it's a hit or miss. I'm definitely going back again to try their Molcajete.
Eat well!
#Foodwithinreach
Daiisies