"Summer is over" says the last 3 day weekend before all hell breaks loose for the rest of the year. I'm trying not to think about work, or the amount of money that's going to be spent now till next February.
The weekend, so far, has been absolutely beautiful. The weather was nice, sunny, and not too unbearable even though there were some heat in Pasadena. John and I went to the flea market today at Pasadena City College. It's only on the first Sunday of every month. There's no entrance fees, just find street parking, grab a Starbucks and head on over. The market is inside their parking structure and outside their lot. It's really a fun treat if you want to kill some time, be outdoors, getting some exercise, or just looking for unique items to decorate your homes with. Most of the little vendors are cash only, but once in a while you will find some stands that takes credit cards.
After spending about 45 minutes to an hour browsing through the aisles, we were hungry and ready to grab a snack.
By the way, breakfast consisted the usual bacon and eggs.
Since we were in Pasadena, we decided to head into Old Town. After little thought, we wanted to try this little joint called Poke Salad Bar.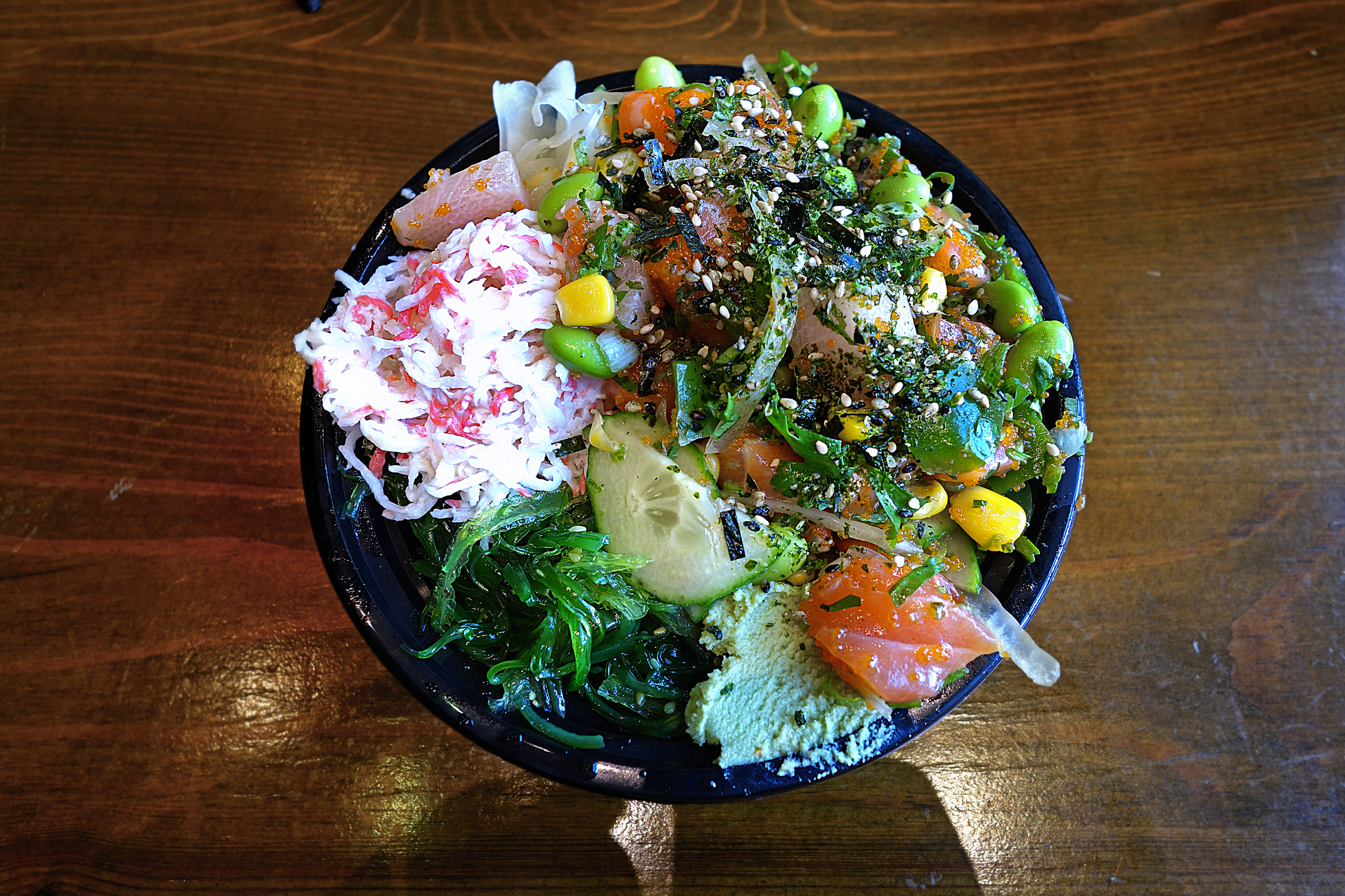 What's great about PSB is the toppings that they offer, for free. I know this may sound weird, but I love imitation crab meat. I don't know why. Don't judge me either. There's just something comforting about how sweet it is... and growing up eating California rolls thinking it was sushi really made me appreciate them differently.
I ordered salmon and yellowtail with all the fixes minus the pineapple. I also added a yuzu vinaigrette which flavors were not present. John doubled down on the salmon with additional spicy tuna, but he did not go loco with the fix ins like I did.
The flavors were satisfying. I was also happy with the portions considering it being larger than Flour and Tea on Lake (which I'll never go again). I parked at the Fair Oaks structure since it's 90 minutes free. A quick lunch and a visit to Crate and Barrel did not run my time over 90 minutes.
I highly recommend this place if you are hungry, want something tasty, affordable, satisfying, and wouldn't feel too ripped off. The total for 2 after taxes came out to $21-ish.
Try it and let me know what you think. They also have other options like shrimp, tuna, and scallops. Rice can be substituted with salad and you can also make a burrito!
Now that the sun is going down, and dinner will be soon... it's time to get drunk. OH! And John found $5 on the floor which he made me pick up. I feel terrible, but at the same time, finders keepers losers weepers.
Happy 3 days! Cheers.
Daiisies