All you Los Angeles natives out there have been crazing over EMC. And if you aren't not from LA, the chances of your friends taking you hear is pretty high. Just like the poke craze, ice cream donuts, and even F'ing churros, you know have tons of restaurants serving up their own raw bar. EMC was one of those top hitters that made it popping first with their location in K-town. It's like 10PM and my friends would still want to head out for Happy Hour. Well wait no more because they also have one open in Irvine. I'm not sure how long the wait can get considering how packed the location in K-Town gets, but those of you that huddles in one car for this, that live out of LA can worry no more.
14346 Culver Dr, Irvine, CA 92604
Best part yet is that they are conveniently right off the 5 on Culver. Not even a mile off the exit to find yourself the grand restaurant waiting for you to devour everything they have.
And they have a lot: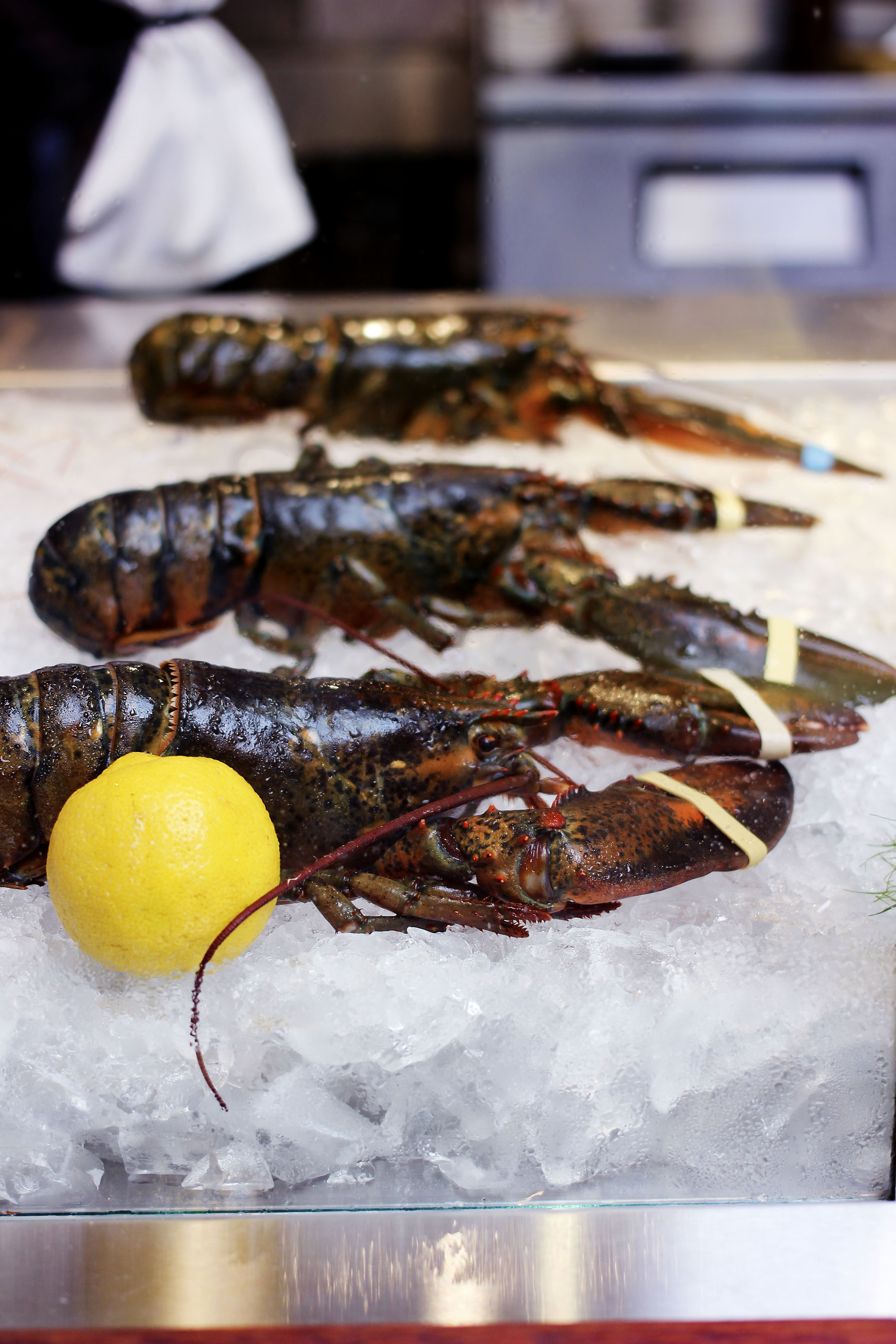 Lobsters are still alive. Oysters are still shut. Sea Urchins just laying there, looking dead, but you know they are hella alive and waiting to be popped out of their shell. Whole f'ing branzinos. I can go on and on, but it won't be fair for me to relive this moment at home.
Crispy Garlic Brussels Sprouts. I know. Before you start talking about how I am ranting about the seafood, and I start showing you a bowl of sprouts. Because these were so delicious! Just so perfectly cooked and extremely flavorful. And, I am a huge advocate about having some kind of greens with your meal. Like a big steak with a piece of broccoli. That good balance talk, you feelin' me?
We had 1/2 a dozen of Kumamoto oysters and 1/2 of Kusshi. Fresh, sweet, perfectly shucked, with cocktail sauce and jalapeno lime. Always a must order.
I know. Here I go again. Now, what the F does fries have to do with anything? These are fries with truffle mushroom aioli. Like shut the front door who the hell comes up with this stuff? That garlic you see right THERE is some good umami-mouth-gasm right there. Fried so crispy with soft centers, ooooo that just gets me right here *points at my heart*. And for the record, it's on the starters menu so it ain't no side dish psssshhh (I literally did the hair whip).
The glorious Uni pasta. Also, that one Uni pasta that everyone talks about. It really does live up to the rave. The spaghetti was perfectly cooked and coated in a cream, Fish Roe, Chives, and Dried Seaweed concoction. The fish roe did it for me. I love-love-loved the texture that it gave the noodles.
If this is the only thing you came here for, by all means do it. If you want to eat a lot of other items, make sure you get this to share. It's a heavy dish even though a delicious one.
Toro Toro Roll - Ground yellowtail and albacore belly inside, topped with chu toro and caviar on top. The kind of fishes you want to eat simply. A touch of wasabi and soy sauce to compliment the fattiness of the fishes. Cleanse your palate with some ginger after before headed for your next bite.
Lobster roll definitely winning. Served with a slice of lemon and melted butter. I am sensitive to butter. Makes me really tired if I have too much so I just use a tad. But what's really a tad when it's melted? Feels like you can easily pour the whole thing on, no regrets. The lobster is cooked in Tarragon Butter, Sea Salt, and stuffed inside a Brioche Bun. Thumbs up for the flavor combo.
We also ordered their black pepper filet mignon to those allergic to seafood. Delicious, tender, and perfect with the bowl of rice it comes with. We also had their crispy pepper calamari that's served with spicy aioli shown below:
14346 Culver Dr, Irvine, CA 92604