I got the pleasure this week to have dinner with a group of foodies hosted by Table Crush. This dining experience is something new, fun, definitely delicious, and stress free. Well, meeting the group for the first time is always a bit tense, and sometimes, awkward. BUT! We are foodies. And as foodies, feel assured that your food taking photos are welcomed and appreciated. A common interest of where the best steak you had recently, or your next venture to a different city, state, country.
Table Crush works pretty simply. You just sign up for free on their website, put the most beautiful photo of yourself (though I prefer mine to be a big sexy hamburger), find a meal you would like to have, and then reserve! The meals are prefixed and sometimes paired with drinks as an option. But really, why wouldn't you drink? I love to drink. Love the big eye balls that everyone gets when the cute short glasses come along, the arrays of colors, that one peel a poor orange had to endure... just for you and me.
Basically, the concept of Table Crush is to bring people who enjoy food together at various restaurants in LA to share unique food experiences in a group of 6-8 people.
(First off, I quick apology to the photos not being the most clear or sharp. Shooting at night is still something I am working on)
Table Crush had their dining event that evening at Gracias Madre. This is my first time here, with that said, I was super stoked to have a beautiful Mexican VEGAN dining experience. Yeah, Mexican Vegan. From their website, this is the story of Gracias Madre:
Going back to the photo above, that is the full menu that we received for our tasting. Ready? First things First. Drinks. Because I am NOT an alcoholic, but I just like to get belligerently drunk with my meals. Not really but really. No I don't have a problem.
To start
Is it gorgeous looking or what? The drink consists of :juniper infused mezcal, lime, mint, sparkling wine, spherical ice of absinthe. This drink had a light smoke, the tang from the lime, and the dry finish from the wine. It reminded me of the sour warheads because of the color. Are you old enough to remember what Warheads are?
"mezcal espadin, house quince tepache, crushed ice, smoked table side in a whole pineapple with organic apple wood". Is that ridiculous or WHAT! Your drink is in that pineapple, they bring a freaking smoke gun, and that infuses the cocktail! That lady in the back wants to steal it, just look at her.
Appetizers
Their escabeche are made in house and it was really delicious. The jalapenos weren't too spicy, the carrots had a nice snap to it (I hate it when they are soggy socks), and there were also garlic. There were also a few bowls of guacamole. Simple, fresh, creamy, and a punch of lime. Also, a salsa trio was sent compliments from the chef. The salsa trio consisted of mango salsa, pineapple habanero salsa, pico de gallo, and with some house made tortilla chips.
Chef Chandra Gilbert came out to greet us and explained the concept of Gracias Madre. Which by the way, is a perk of dining through Table Crush, you get to meet the chef. HOW freaking cool is that?! She explained to us how they source their ingredients from local farmers market as well as owning their own farm (so freaking badass). I am not a chef. But I've worked in a restaurant for 4 years and I know how hard it is, for the head/exec chef to step out to greet you, and to show their appreciation for you dining with them. It's very humbling, and makes the food that much better to know there's a lot of heart and soul that the whole team is pulling together. Definitely worth meeting the chef.
Sorry! Back to the meal.
Oh! Hi there! I think they should make one with Habanero! Ultimate butt fire game. By the way, I love their ice cubes.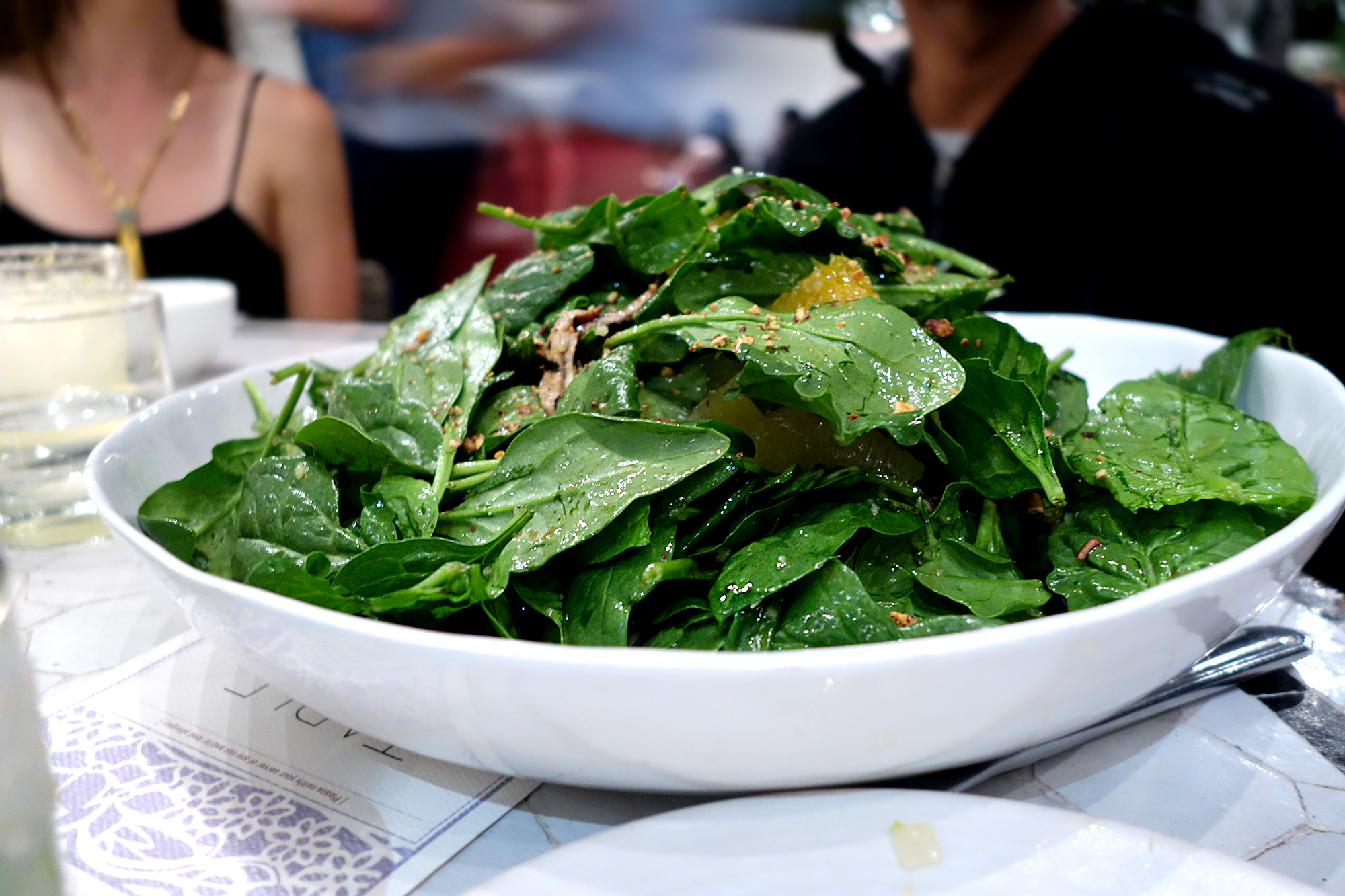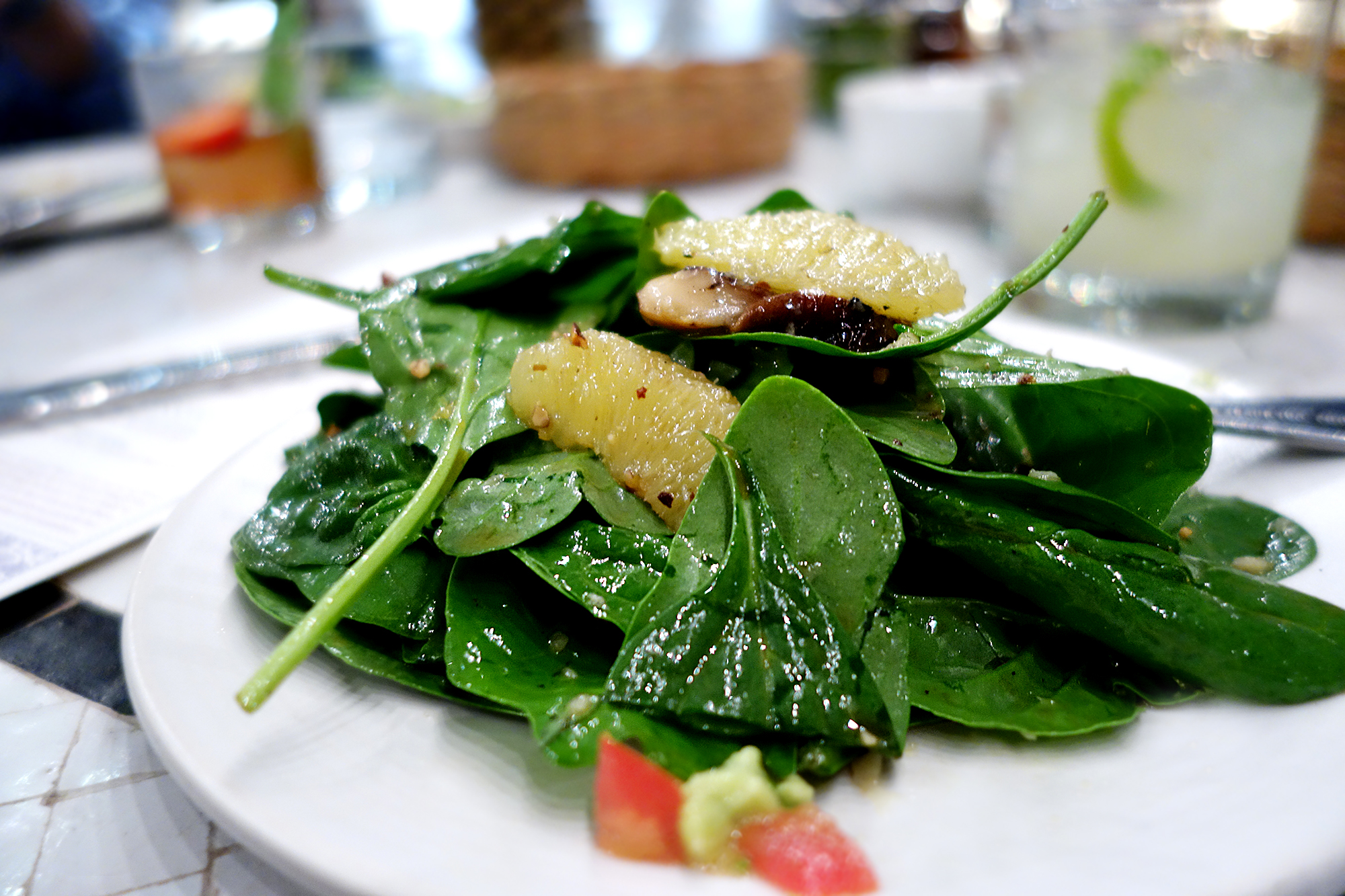 Ensalada de espinacas - Spinach, shitake mushrooms, mint, mandarins, and aged balsamic. The salad was huge, looked simple, but PACKED with delicious flavors. I loved the play with the shitake mushrooms, it reminded me as if I was eating a Octopus salad. The aged balsamic with the mandarins made the salad very distinct and it's own character. I would definitely order this again, and I'm not even a spinach salad fan.
The next appetizer that we also tasted, and is a MUST, was their Coliflor Frito. Cauliflower, cashew nacho cheese, and lemon. GUYS! I am going nuts with this cashew stuff. Cashes nacho cheese? We all did the mmMMmmmMMmm *eyes roll back* - *died* - *risen*. I loved it. Cauliflower is one of my favorite veggies. It's so meaty, stands within the heat really well, and takes up a lot of flavor if you give it a lot of nurture and love. Now, I would definitely come back just for this.
Entrees
A rolled up tortilla with sweet potatoes, DEEP FRIED - caramelized onions, pico de gallo, guacamole, cashew nacho cheese. All you sweet potato fans. You will love this. Out of everything I ate that night, this really reminded me that I wasn't eating meat. The sweet potato was very smooth and creamy, a perfect way to smack a wall in your face to tell you "HEY! if you are not full yet, this will do it!".
Sorry for the blur, but this is their potato masa cake, pineapple habanero salsa, guacamole, pickled cabbage, black beans, cashew crema, cilanto and more escabeche. I doused their red and green chile sauce on this sope (and my flauta). I loved the black beans and the masa very much. The flavors were well balanced. The habanero in the salsa finds its way to stab you. I like to be stabbed. But don't worry, the cashew crema and pickled cabbage will make the ride easy. I also loved the sweetness of the pineapples and the components in this dish. It was very well thought out and well executed.
Dessert
Peanut Butter Cup Bites - Raw Cacao crust - toasted peanut ganache. Wow. Just wowsers. This was so decadent and different from all the peanut things I've ever had. It was really creamy and rich. Basically, it's everything you would want in a giant tub, with a giant spoon, watching Homeland, Ray Donovan or the Walking Dead. I would like a quart of this NOW.
Followed by their Fudge Brownie - salted caramel, coconut bacon and coconut cashew whipped cream. Uhhhh we all slathered the peanut butter cup spread on this. How full I felt after entrees, immediately disappeared when I was having this dessert.
Rounding it up, I am happy I tried Table Crush. The owner of Table Crush, Jay Park, was with us to share his passion, his visions of bringing a whole new game to the foodie community, and to definitely bring light to the underdogs in the restaurant industry. It's cut throat in this world, and sometimes, one bad review by someone ignorant of a culture, can depict the whole image of a restaurant, causing patrons to steer away.
What I love about Table Crush is how it stays true to the values that I believe in. It sets up random spots for you to try, and you go blinded without really knowing what you are in for. This was a great way for me to kick off my first reservation with Table Crush at Gracias Madre.
I would never think of dining at a Vegan restaurant, and now, look at me. I've became a guppy for cashew nacho cheese and peanut ganache.
Happy eatings, and hope to see more faces on the next Table Crush event!
Salud!
Daiisies